SciLor's Playlex v1.0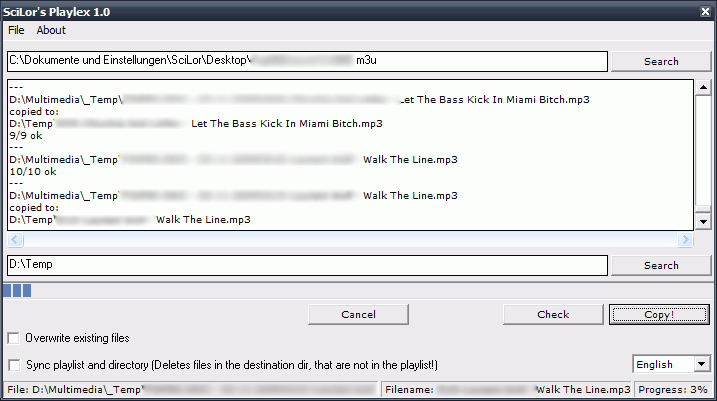 More Info:
http://www.scilor.com/playlex.html
Readme:
Code:
SciLor's Playlex 1.0
i.
.7.
.. :v
c: .X
i.::
:
..i..
#MMMMM
QM AM
9M zM
6M AM
2M 2MX#MM@1.
OM tMMMMMMMMMM;
.X#MMMM ;MMMMMMMMMMMMv
cEMMMMMMMMMU7@MMMMMMMMMMMMM@
.n@MMMMMMMMMMMMMMMMMMMMMMMMMMMMMMMM
MMMMMMMM@@#$BWWB#@@#$WWWQQQWWWWB#@MM.
MM ;M.
$M EM
WMO$@@@@@@@@@@@@@@@@@@@@@@@@@@@@#OMM
#M cM
QM Another Cake by tM
MM SciLor CMO
.MMMM oMMMt
1MO 6MMMMMMMMMMMMMMMMMMMMMMMMMMMMMMMMMMM iMM
.M1 BM For all Portal Lovers! vM ,Mt
1M @M............................... WM M6
MM .A8OQWWWWWWWWWWWWWWWWWWWWWWWWWWWOAz2 #M
MM MM.
@MMY vMME
UMMMbi i8MMMt
C@MMMMMbt;;i.......i;XQMMMMMMt
;ZMMMMMMMMMMMMMMM@A;.

ReadMe

You will need the Visual Basic 6 Runtimes

SciLor's Playlex is a playlist exporter that allows to copy the files out of a m3u/txt playlist into one directory of your choice.
For example when you have a nice playlist on your computer and want to listen it on your mp3-player.

Just open your m3u/txt playlist, select the destination directory and here we go :)

If you want to overwrite files, enabled the checkbox.
If you want to have a directory synchronized with the playlist select the sync checkbox.

ToDo:

Known Bugs:

If you like my hard work PLEASE DONATE! :)
http://scilor.ac-host.net/donate.html

ChangeLog:

v1.0 (2009-12-08)
-Fix: Crash on emtpy File fields :)

-----------------------


---------------LINKS-------------------------
My Website: http://scilor.ac-host.net/
SciLor's Playlex Website: http://scilor.ac-host.net/playlex.html
Donation: http://scilor.ac-host.net/donate.html
-

DO NOT REUPLOAD THOSE FILES WITHOUT PERMISSION!
_________________
My Windows Mobile and Windows Open Source Website:
www.scilor.com
Like my work? Donate!
Donation Website
My Programs:
grooveshark™.com Downloader, GrooveMobile, Fuel Blaster, Chameleon TicTacToe, QuickTap, WiMoBlue, Driving Licence Trainer, CodeSnippetViewer, Gesture Launcher, Fahrplanauskunft, GSensor Control