SciLor's LaunchMe v0.2.5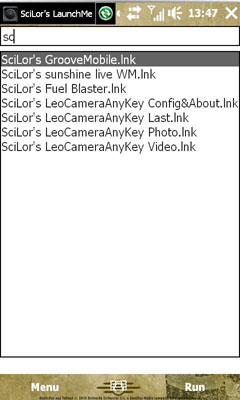 Directory config dialog and bugfixes
More Info:
http://www.scilor.com/launchme.html
Readme:
Code:
SciLor's LaunchMe v0.2.5
i.
.7.
.. :v
c: .X
i.::
:
..i..
#MMMMM
QM AM
9M zM
6M AM
2M 2MX#MM@1.
OM tMMMMMMMMMM;
.X#MMMM ;MMMMMMMMMMMMv
cEMMMMMMMMMU7@MMMMMMMMMMMMM@
.n@MMMMMMMMMMMMMMMMMMMMMMMMMMMMMMMM
MMMMMMMM@@#$BWWB#@@#$WWWQQQWWWWB#@MM.
MM ;M.
$M EM
WMO$@@@@@@@@@@@@@@@@@@@@@@@@@@@@#OMM
#M cM
QM Another Cake by tM
MM SciLor CMO
.MMMM oMMMt
1MO 6MMMMMMMMMMMMMMMMMMMMMMMMMMMMMMMMMMM iMM
.M1 BM For all Portal Lovers! vM ,Mt
1M @M............................... WM M6
MM .A8OQWWWWWWWWWWWWWWWWWWWWWWWWWWWOAz2 #M
MM MM.
@MMY vMME
UMMMbi i8MMMt
C@MMMMMbt;;i.......i;XQMMMMMMt
;ZMMMMMMMMMMMMMMM@A;.

ReadMe

You will need the .NET Framework

SciLor's LaunchMe is a tool for launching apps by typing its name. You may know a similar tool called Launchy.
You may also call it as a "Run" Tool for Windows Mobile.

Check the config.xml to add other directories than the "Start Menu" and "Windows".

ToDo:

Additional:

Known Bugs:

If you like my hard work PLEASE DONATE! :)
http://www.scilor.com/donate.html

ChangeLog:

v0.2.5 (2010-07-31)
-Feature: Configuration screen for the directories.
-Fix: Background scanned files are now applied on runtime.
-Fix: No abortion of background scanning when exiting the app with the "Exit" menu entry or running an application.

-----------------------

v0.2 (2010-07-30)
-Enhancement: Added "\Windows" (without subdirs) to the standard search directories.
-Feature: Caching (On first run ever a cachefile is created, it gets updated on every launch of the application in background)
-Feature: Configuration (Use Cache/Allow Background Caching)
-Feature: Better SIP handling
-Fix: Results on empry search field
-Fix: Added missing Updater DLL

v0.1 (2010-07-28)
-Initial Release



---------------LINKS-------------------------
My Website: http://www.scilor.com/
SciLor's LaunchMe: http://www.scilor.com/launchme.html
Donation: http://www.scilor.com/donate.html
-

DO NOT REUPLOAD THOSE FILES WITHOUT PERMISSION!
_________________
My Windows Mobile and Windows Open Source Website:
www.scilor.com
Like my work? Donate!
Donation Website
My Programs:
grooveshark™.com Downloader, GrooveMobile, Fuel Blaster, Chameleon TicTacToe, QuickTap, WiMoBlue, Driving Licence Trainer, CodeSnippetViewer, Gesture Launcher, Fahrplanauskunft, GSensor Control