SciLor's Ftp Size Analyser v0.1
I recently wanted to check where all the space on my ftp is gone, but there is nearly any tool analysing the space of directories on a ftp.
Here is a tool allowing that. Enter the data, wait a while. Left click to open a directory (in brackets []), right click to step a directory back.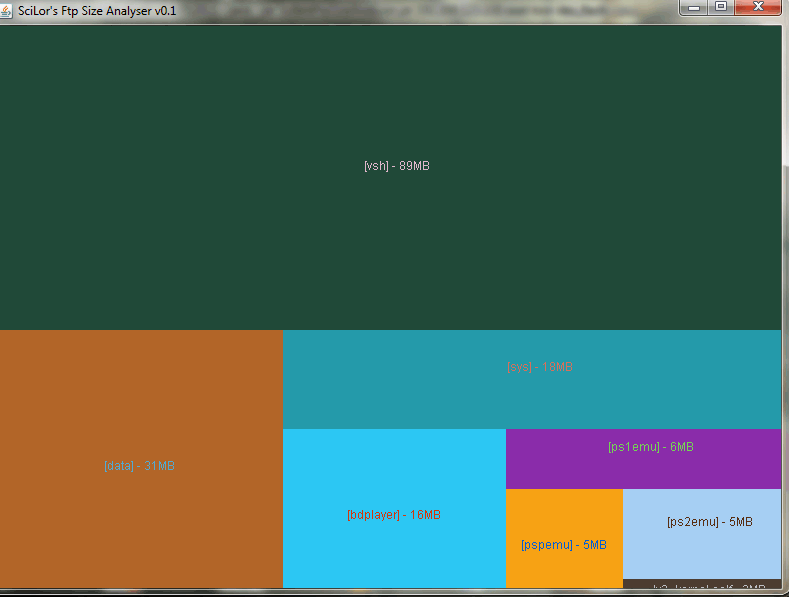 It may be a bit buggy with some ftp servers, don't know why. Maybe a problem with webservers, all intranet ftps worked fine.
If you are familiar with ps3 cfw you may also try to check where all your space on your internal hdd is gone.
To use this, open a command line
Code:
\FTP>java -jar ScilorsFtpSizeAnalyser.jar host user pass subdir
SciLor's Ftp Size Analyser v0.1

usage: ip username password [optional subdirectories]

It may take a couple of minutes

When the window opens you can left click to open a directory [dir-name], right click to go back.
DO NOT REUPLOAD THOSE FILES WITHOUT PERMISSION!
Download:
http://ul.to/m9380689/ScilorsFtpSizeAnalyser.zip
_________________
My Windows Mobile and Windows Open Source Website:
www.scilor.com
Like my work? Donate!
Donation Website
My Programs:
grooveshark™.com Downloader, GrooveMobile, Fuel Blaster, Chameleon TicTacToe, QuickTap, WiMoBlue, Driving Licence Trainer, CodeSnippetViewer, Gesture Launcher, Fahrplanauskunft, GSensor Control