SciLor's Fahrplanauskunft v0.9.8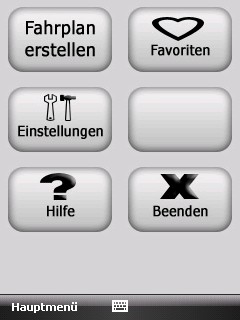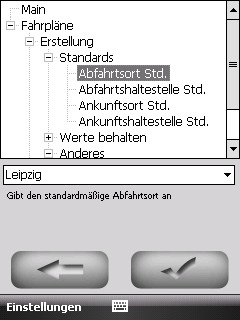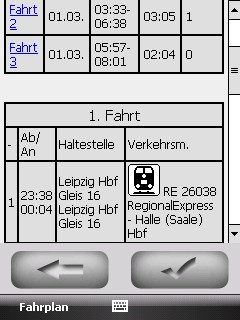 More Info:
http://www.scilor.com/fahrplanauskunft.html
Readme:
Code:
SciLor's Fahrplanauskunft 0.9.8

i.
.7.
.. :v
c: .X
i.::
:
..i..
#MMMMM
QM AM
9M zM
6M AM
2M 2MX#MM@1.
OM tMMMMMMMMMM;
.X#MMMM ;MMMMMMMMMMMMv
cEMMMMMMMMMU7@MMMMMMMMMMMMM@
.n@MMMMMMMMMMMMMMMMMMMMMMMMMMMMMMMM
MMMMMMMM@@#$BWWB#@@#$WWWQQQWWWWB#@MM.
MM ;M.
$M EM
WMO$@@@@@@@@@@@@@@@@@@@@@@@@@@@@#OMM
#M cM
QM Another Cake by tM
MM SciLor CMO
.MMMM oMMMt
1MO 6MMMMMMMMMMMMMMMMMMMMMMMMMMMMMMMMMMM iMM
.M1 BM For all Portal Lovers! vM ,Mt
1M @M............................... WM M6
MM .A8OQWWWWWWWWWWWWWWWWWWWWWWWWWWWOAz2 #M
MM MM.
@MMY vMME
UMMMbi i8MMMt
C@MMMMMbt;;i.......i;XQMMMMMMt
;ZMMMMMMMMMMMMMMM@A;.

ReadMe
You will need .NET CF 3.5 Links at the Bottom

Edit "orte.txt", "haltestellen.txt" to change your quicklist!

ToDo:
- Fix a Bug which doesn't shows the correct Date in the Date Panel after loading the "Letzen Fahrplan"!...
- Add Favorites
- Add Erweitert for more Options in Fahrplan Erstellen (Page 3)
- Add other Websites!
Please beware VRR.de/Deutsche Bahn should support "Fahrpläne" everywhere I think!
Maybe following:
http://www.mvv-muenchen.de/de/home/index.html
http://www.rmv.de/
http://www.bvg.de/
http://www.lvb.de/
http://www.kvg.de/index.php?id=kvg
http://www.vvs.de/

- Bug with Opera (as Standard Browser)
- Problem with non (Q)VGA displays -> There may be scrollbars

Additional
Demonstration on YouTube of v0.9.1
http://de.youtube.com/watch?v=20m6C1cHIuQ

ChangeLog:

v0.9.8 (08.12.2009)
-Feature: Added TreeView

-----------------------

v0.9.7 (05.08.2009)
-Feature: Proxy Support (Config)

v0.9.6 (04.04.2009)
-Bugfix: Saved Fahrpläne (again, I am sorry)
-Added: Provider DeutscheBahn
-Feature: Selectable Provider

v0.9.5 (01.04.2009)
-Bugfix: Problems with saved Fahrpläne, Completly rewritten :) -> Old Fahrpläne doesnt work anymore

v0.9.4 (29.03.2009)
-Quickfix because of an error in the Template Engine -> Endpoint was Startpoint

v0.9.3
-Quickfix because of changes on VRR

v0.9.2
-Update to .Net CF 3.5
-VGA Support (Emulator)
-Added Template Selection

v0.9.1
-Bugfix: File Dialog didnt copied the filename into the textboxes and used the old ones....

v0.9 Beta
-Added File Loading / Saving Check "Favorite" Icon and Save Tab of "Fahrplan Anzeige"
-Added Complex FileSearch Dialog!!!!

v0.8 Beta
- Bugfix: First day of Month was used!!!
- Added Favoriten -> Letzen Fahrplan Laden :) (Offline)

v0.7
- Added Program Icon with Vista Style
- Added HTML Templates for Show "Fahrpläne"
- Added Real Showing Screen of "Fahrpläne"

v0.6
- Added Config functionality
- Fixed some little Bugs
- Added MenuBar with Descriptions
- Added QuickList of Städte/Haltestellen

---------------LINKS-------------------------
My Website: http://scilor.ac-host.net/
SciLor's Fuel Blaster Website: http://scilor.ac-host.net/fahrplanauskunft.html
Donation: http://scilor.ac-host.net/donate.html
-
DotNET CF 3.5: http://www.microsoft.com/downloads/details.aspx?familyid=E3821449-3C6B-42F1-9FD9-0041345B3385&displaylang=en

DO NOT REUPLOAD THOSE FILES WITHOUT PERMISSION!
_________________
My Windows Mobile and Windows Open Source Website:
www.scilor.com
Like my work? Donate!
Donation Website
My Programs:
grooveshark™.com Downloader, GrooveMobile, Fuel Blaster, Chameleon TicTacToe, QuickTap, WiMoBlue, Driving Licence Trainer, CodeSnippetViewer, Gesture Launcher, Fahrplanauskunft, GSensor Control